DIY Nail Care at Home: Step-by-Step Guide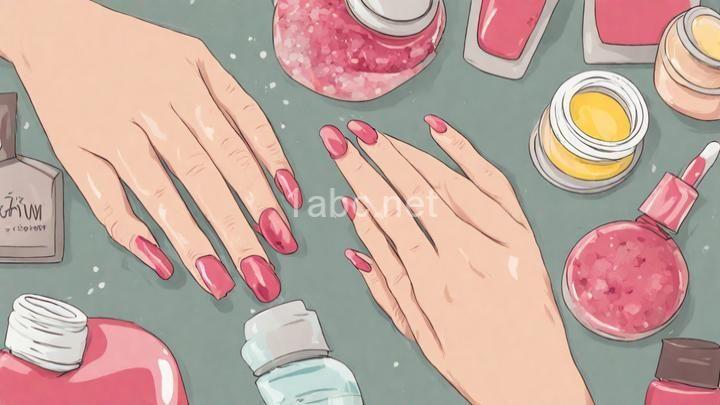 Introduction:
Welcome to our friendly guide on how to take care of your nails at home! In this step-by-step tutorial, we will walk you through the process of achieving healthy and beautiful nails without having to visit a salon. Get ready to pamper yourself!
Section 1: Nail Prep
Before diving into the nail care process, it's important to gather all the necessary tools. You will need nail clippers, a nail file, a cuticle pusher, a buffer, and a bowl of warm water. These tools will help you achieve the best results.
To begin, remove any old nail polish using an acetone-free remover. Acetone-free removers are gentler on your nails and cuticles, preventing unnecessary damage. Once your nails are polish-free, it's time to trim them to the desired length. Use the nail clippers to carefully trim your nails, ensuring they are all even. After trimming, use the nail file to shape your nails. Whether you prefer a square, oval, or rounded shape, gently file the edges until they are smooth.
To prepare your cuticles for the next step, soak your nails in warm water for a few minutes. This will help soften the cuticles, making them easier to work with.
Section 2: Cuticle Care
Now that your cuticles are softened, it's time to give them some attention. Take the cuticle pusher and gently push back the cuticles. Remember to be gentle and avoid applying too much pressure to avoid any discomfort or damage. Pushing back the cuticles allows for a cleaner nail bed and promotes healthier nail growth.
Next, use the cuticle trimmer to remove any excess cuticle. Be cautious not to go too deep, as this can lead to infections. The goal is to remove only the excess, not the entire cuticle. Once you've tidied up your cuticles, use the buffer to smooth out any rough edges on the surface of your nails. This will create a smooth canvas for nail polish application.
Section 3: Nail Nourishment
Now that your nails and cuticles are prepped, it's time to nourish them. Apply a nourishing cuticle oil or cream onto each nail bed, massaging it gently. This step helps moisturize and strengthen your nails, keeping them healthy and preventing breakage. For added hydration, you can also apply a hand cream or lotion to your hands and cuticles.
Section 4: Polish Application
If you're in the mood for some color, it's time to choose your favorite nail polish shade. Before applying any color, start with a base coat. The base coat not only enhances the longevity of your polish but also protects your nails from staining. Apply a thin layer of base coat to each nail and allow it to dry completely.
Once the base coat is dry, it's time to apply your chosen polish color. Start with a thin layer of polish, applying it in three strokes: one down the center, and one on each side. Allow the first coat to dry completely before applying the second coat. This will ensure an even and opaque color.
After the second coat has dried, finish off with a top coat. The top coat adds shine and helps seal in the color, making your manicure last longer. Apply a thin layer of top coat to each nail, and don't forget to seal the edges. Allow the top coat to dry completely before going about your day.
Section 5: Maintenance Tips
To maintain healthy nails, it's essential to incorporate a few habits into your routine. Regularly moisturize your hands and nails to keep them hydrated and prevent dryness. Avoid using your nails as tools for opening cans or scratching surfaces, as this can lead to breakage and damage.
When engaging in household chores or working with chemicals, it's important to protect your nails. Wear gloves to shield them from harsh chemicals and detergents, which can weaken and damage your nails over time.
Lastly, avoid biting your nails or picking at the polish. Not only does this weaken your nails, but it also ruins your manicure. If you find yourself tempted, try applying a bitter-tasting nail polish specifically designed to discourage nail-biting.
Conclusion:
Congratulations! You've successfully completed our DIY nail care guide. By following these simple steps, you can achieve salon-like results right at home. Remember to take some time for self-care and enjoy the process of caring for your beautiful nails. Happy pampering!
Note: If you have any concerns or specific questions about nail care, feel free to reach out to us. We are here to help!
FREQUENTLY ASKED QUESTIONS
What is DIY Nail Care at Home: Step-by-Step Guide?
DIY nail care at home is a great way to take care of your nails without having to visit a salon. It allows you to save money and have control over the products and techniques used. Here is a step-by-step guide to help you with your at-home nail care routine:
Start by removing any old nail polish using a non-acetone nail polish remover. Acetone can be harsh on your nails and cuticles, so it's best to avoid it.

Trim and shape your nails using a nail clipper and a nail file. Make sure to file in one direction to prevent any splitting or damage to the nails.

Soak your hands in warm water for a few minutes to soften the cuticles. You can add a few drops of essential oils or a moisturizing soap for a relaxing experience.

Gently push back the cuticles using a cuticle pusher or an orangewood stick. Be careful not to cut or damage the cuticles as they serve as a protective barrier for your nails.

Exfoliate your hands using a gentle scrub to remove any dead skin cells. This will leave your hands feeling smooth and soft.

Apply a moisturizer or cuticle oil to hydrate and nourish your nails and cuticles. Massage it in gently to promote blood circulation and improve the health of your nails.

If you want to add some color to your nails, apply a base coat before applying the nail polish. This will protect your nails from staining and help the polish last longer.

Apply your desired nail polish color in thin, even coats. Allow each coat to dry completely before applying the next one. This will prevent smudging and ensure a smooth finish.

Finish off with a top coat to seal in the color and add shine. This will also help your manicure last longer and prevent chipping.

Once your nails are completely dry, clean up any mistakes or excess polish using a small brush dipped in nail polish remover.
Remember to take breaks between manicures to give your nails time to breathe and recover. Regular nail care at home will keep your nails healthy, strong, and looking beautiful.
Why should I do my own nail care at home?
There are several reasons why doing your own nail care at home can be beneficial. First and foremost, it allows you to have complete control over the products and tools you use. This means you can choose high-quality, non-toxic options that are better for your nails and overall health.Another advantage is the convenience factor. With a busy schedule, finding time to go to a nail salon can be challenging. By taking care of your nails at home, you can do it whenever it's most convenient for you, whether it's during your lunch break or in the comfort of your own home in your pajamas.
Doing your own nail care can also save you money in the long run. Salon visits can quickly add up, especially if you opt for frequent manicures or pedicures. By investing in a few essential tools and products, you can achieve salon-quality results at a fraction of the cost.
Furthermore, doing your own nail care allows you to personalize and experiment with different nail designs and styles. You can let your creativity shine and try out new trends or techniques without any limitations. It's a great way to express yourself and have fun with your nails.
Lastly, doing your own nail care at home can be a relaxing and therapeutic experience. Taking the time to pamper yourself and focus on self-care can be a great stress-reliever. You can create a calming atmosphere, play your favorite music, and enjoy some "me time" while giving your nails the attention they deserve.
Overall, doing your own nail care at home offers control, convenience, cost savings, creativity, and relaxation. So why not give it a try and see the benefits for yourself?
How often should I do my own nail care at home?
When it comes to doing your own nail care at home, the frequency largely depends on your personal preferences and the condition of your nails. However, a general recommendation is to do your own nail care routine once every week or two.Regularly tending to your nails helps to maintain their health and appearance. This includes tasks such as trimming and filing your nails, pushing back your cuticles, and moisturizing your hands and nails. By doing these activities regularly, you can prevent nail breakage, promote nail growth, and keep your nails looking neat and tidy.
Of course, if your nails are particularly prone to breakage or damage, you may want to consider doing your nail care routine more frequently. On the other hand, if your nails are naturally strong and don't require much maintenance, you can extend the time between your at-home nail care sessions.
Ultimately, it's important to listen to your nails and give them the attention they need. If you notice any issues such as dryness, brittleness, or peeling, it may be a sign that you need to increase the frequency of your nail care routine. On the other hand, if your nails are healthy and looking great, you can space out your at-home nail care sessions accordingly.
Remember, taking care of your nails is not only about aesthetics but also about maintaining their overall health. So, find a frequency that works for you and enjoy your DIY nail care sessions!
Keywords:
how to do manicure at home with home ingredients, how to do manicure at home without tools, how to do your nails at home like a professional, how to do a professional manicure - step by step, manicure procedure step by step, manicure at home service, home manicure soak, pedicure