Staging for Success: DIY Interior Design Tips to Help Sell Your Home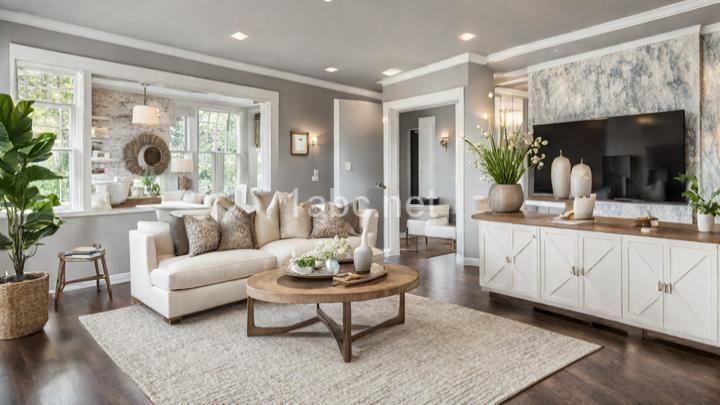 Introduction:
Welcome, homeowners! Are you getting ready to sell your home and want to make sure it stands out from the competition? Look no further! In this blog post, we will explore the world of staging and how it can greatly impact the sale of your home. Selling a home can be a daunting task, but with the right interior design tips and a little DIY magic, you can create a space that will captivate potential buyers and increase your chances of a successful sale.
I. Understanding the Impact of Staging
First impressions matter, and when it comes to selling your home, staging plays a crucial role. Staging is the art of arranging and decorating your home to showcase its best features and create an inviting atmosphere. By strategically placing furniture, adding decorative elements, and paying attention to details, you can enhance the overall impression of your home and leave potential buyers longing to call it their own.
Creating a welcoming and inviting atmosphere is key when staging your home. You want potential buyers to walk through the front door and immediately feel at ease. This can be achieved by using warm colors, cozy textures, and tasteful decor. By creating a space that feels like home, you are helping potential buyers envision themselves living in the space and forming an emotional connection.
II. Decluttering and Depersonalizing
Before diving into the world of staging, it is important to declutter and depersonalize your space. Clutter can make a room feel smaller and distract potential buyers from seeing the true potential of your home. Start by tackling one room at a time, removing any unnecessary items and organizing belongings into storage bins. If needed, consider renting a temporary storage unit to free up space and create a more open and inviting environment.
Depersonalizing your home is equally important. While your family photos and personal mementos hold sentimental value, they can make it difficult for potential buyers to envision themselves in the space. By removing personal items and creating a neutral environment, you are allowing buyers to imagine their own lives unfolding within the walls of your home.
III. Enhancing Curb Appeal
The exterior of your home is the first thing potential buyers see, so it's essential to make a great first impression. Enhancing curb appeal doesn't have to break the bank – simple landscaping techniques can go a long way. Trim hedges, mow the lawn, and plant colorful flowers to add a pop of vibrancy. Don't forget about the power of fresh paint – a fresh coat on the front door, shutters, or trim can instantly elevate your home's curb appeal.
IV. Creating Inviting Living Spaces
When it comes to staging, the way you arrange furniture can greatly impact the flow and perceived size of a room. Start by removing any unnecessary pieces and rearranging the furniture to maximize space and create an inviting layout. Consider using neutral color palettes for larger furniture pieces and adding pops of color through accessories like pillows, throws, and artwork. Proper lighting is also crucial in creating a warm and cozy ambiance – make sure to utilize a mixture of natural and artificial light sources to highlight the best features of each room.
V. Paying Attention to Details
In the world of staging, it's the little things that make a big impact. Take a walk through your home and pay close attention to details. Are there outdated fixtures or hardware that could easily be replaced? Is the paint on the walls looking a bit worn? Taking the time to address these small fixes can make a significant difference in the overall impression of your home. Additionally, make sure to keep your spaces clean and tidy, including windows, floors, and countertops. A spotless home shows potential buyers that you have taken great care of the property.
VI. Showcasing Key Selling Points
Every home has its unique selling points – whether it's an architectural detail, a breathtaking view, or a cozy fireplace. When staging your home, it's important to highlight these features and make them the focal point of each room. Accentuate architectural details with tasteful artwork or statement pieces. Use furniture placement to draw attention to key selling points. By showcasing the best features of your home, you are giving potential buyers a reason to fall in love.
Conclusion:
Congratulations! You have learned some valuable DIY interior design tips to help you stage your home and increase your chances of a successful sale. Remember, staging is not about completely renovating your home but rather creating an environment that showcases its best features. With a little effort and creativity, you can transform your home into a welcoming and appealing space that entices potential buyers. Good luck, and don't forget to share your success stories or ask any questions in the comments section. Happy staging!
FREQUENTLY ASKED QUESTIONS
What is staging and why is it important when selling a home?
Staging is the process of preparing a home for sale by strategically arranging furniture, decor, and other elements to showcase its best features and create an appealing atmosphere for potential buyers. It goes beyond just decluttering and cleaning, as it involves creating an inviting and visually pleasing environment that allows buyers to envision themselves living in the space.Staging is important when selling a home because it can significantly impact the selling price and the speed at which the property sells. Here's why:
Enhances the first impression: The way a home is presented can make or break a buyer's interest. Staging helps create a positive first impression by highlighting the home's strengths and minimizing any weaknesses. It helps buyers see the full potential of the space and creates an emotional connection that can lead to a faster sale.

Maximizes space and functionality: Proper staging can make a home feel more spacious and functional. By arranging furniture and decor in a way that optimizes the flow of the rooms, staging can create a sense of openness and make even small spaces appear larger. This can be especially beneficial if the home has an unconventional layout or limited square footage.

Showcases the home's features: Staging allows you to highlight the unique features and architectural details of the home. By strategically placing furniture, artwork, and accessories, staging draws attention to focal points such as fireplaces, built-in shelving, or stunning views. This helps buyers appreciate the home's character and can increase its perceived value.

Helps buyers visualize living in the space: When potential buyers enter a staged home, they can imagine themselves living there. Staging creates a warm and inviting atmosphere that allows buyers to emotionally connect with the property. By creating a neutral and welcoming environment, staging helps buyers see the home as a place to create their own memories, making it more likely that they will make an offer.

Sets your home apart from the competition: In a competitive real estate market, staging can give your home a competitive edge. By presenting a well-staged home, you can stand out from other properties on the market and attract more potential buyers. Staging creates a memorable impression that makes your home more memorable and desirable compared to others.
In conclusion, staging is a crucial step when selling a home. It helps create an appealing and inviting environment that allows potential buyers to envision themselves living in the space. By enhancing the home's features, maximizing space, and creating an emotional connection, staging can significantly increase the chances of a faster sale and a higher selling price.
Can I stage my home myself, or do I need to hire a professional?
Whether or not to stage your home yourself or hire a professional is ultimately a personal decision. If you have an eye for design and feel confident in your ability to create an inviting and appealing space, you may be able to stage your home yourself. This can save you money and allow you to have full control over the process. However, keep in mind that staging requires more than just rearranging furniture. It involves creating a cohesive and neutral look that appeals to a wide range of potential buyers.
On the other hand, hiring a professional stager can be beneficial if you lack the time, expertise, or resources to properly stage your home. Professional stagers have experience with understanding the current market trends and know how to highlight your home's best features. They can also provide objective advice and suggestions that you might not have considered.
Consider your budget, timeline, and the specific needs of your home when making this decision. It may be helpful to consult with a real estate agent or other professionals in your area to get their input. Ultimately, the goal is to present your home in the best possible light to attract potential buyers and maximize your chances of selling quickly and at a desirable price.
Where should I start when staging my home?
When staging your home, it's important to start with the basics and work your way up to the finer details. Here are a few steps to get you started:
Declutter: Begin by removing any unnecessary items and clutter from each room. This will help create a sense of space and allow potential buyers to envision themselves living in the home.

Deep Clean: Give your home a thorough cleaning, paying attention to every nook and cranny. This will make a big difference in how your home looks and feels to potential buyers.

Focus on Curb Appeal: The first impression is crucial, so take the time to spruce up the exterior of your home. Trim the hedges, mow the lawn, and add some fresh flowers or potted plants to the front entrance.

Neutralize: When it comes to staging, it's best to stick with neutral colors. Repaint any bold or outdated walls with neutral tones to create a clean and inviting atmosphere.

Rearrange Furniture: Consider the flow of each room and rearrange furniture to maximize space and create a sense of openness. Remove any bulky or unnecessary pieces to make the room feel more spacious.

Enhance Lighting: Natural light is always a plus, so open up curtains or blinds to let in as much light as possible. In darker areas, add additional lighting fixtures or strategically placed lamps to brighten up the space.

Add Finishing Touches: Once you've tackled the basics, it's time to add some finishing touches. Add fresh flowers, decorative pillows, and tasteful artwork to bring life and personality to each room.
Remember, the goal of staging is to create a welcoming and appealing environment that allows potential buyers to see the full potential of your home. Take your time, and don't be afraid to seek professional advice if needed.
How can I make my home look more spacious during the staging process?
During the staging process, there are several effective ways to make your home look more spacious. Here are some tips:
Declutter: Start by removing any unnecessary items from your home. Clearing the clutter will instantly create a sense of openness and make the space look larger.

Rearrange furniture: Consider rearranging your furniture to maximize space and create better flow. Place larger pieces against the walls and leave open pathways to make the rooms feel more spacious.

Use light colors: Painting the walls in light, neutral colors can make a room appear larger and brighter. Opt for shades like white, cream, or pastels to create an airy and open feel.

Maximize natural light: Open up curtains and blinds to let in as much natural light as possible. Natural light has a way of expanding a space and making it feel more inviting.

Mirrors and reflective surfaces: Strategically placing mirrors and using reflective surfaces can create an illusion of depth and make a room feel more expansive. Consider adding a large mirror or mirrored furniture to bounce light around and visually enlarge the space.

Minimize personal items: While it's important to add some personality to your home, too many personal items can make a space feel cluttered and smaller. Keep personal items to a minimum and focus on creating a neutral, inviting atmosphere.

Smart storage solutions: Utilize storage solutions that maximize space and keep belongings organized. Built-in shelves, under-bed storage, and closet organizers can help eliminate clutter and make your home feel more spacious.
Remember, the goal of staging is to showcase the potential of your home and create a welcoming environment for potential buyers. By implementing these tips, you'll be on your way to making your home look more spacious and appealing to buyers.
Keywords:
home staging ideas pictures, how to stage a house for sale inexpensively, home staging tips, home staging checklist, home staging tips 2023, home staging hacks, home staging ideas before and after, what should you not do when staging a house?