Natural Pest Control Methods for a Beautiful Organic Lawn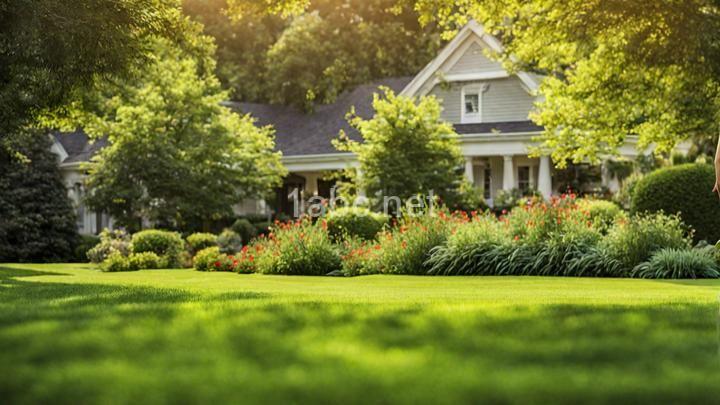 Introduction:
Welcome, fellow green thumbs and lawn enthusiasts! If you're here, chances are you're passionate about maintaining a beautiful, lush lawn while also preserving the environment. Well, you've come to the right place. In this blog post, we're going to explore the world of natural pest control methods for your organic lawn.
We all know how frustrating it can be to see our hard work and dedication to our lawns being destroyed by pesky pests. But fear not! There are plenty of effective and eco-friendly ways to tackle these little intruders and keep your lawn looking its best. So, let's dive in and discover the secrets to a pest-free, organic oasis right in your backyard.
I. Understanding Common Lawn Pests:
Before we delve into the world of natural pest control, let's take a moment to familiarize ourselves with some of the common pests that can wreak havoc on our lawns. From pesky grubs to invasive weeds and bothersome insects, it's important to know what we're up against.
Grubs are the larvae of beetles and can cause significant damage to your lawn by feeding on its roots. Weeds, on the other hand, compete with your grass for nutrients and sunlight, ultimately leading to patches of unsightly growth. Then, there are insects like chinch bugs, armyworms, and Japanese beetles, which can munch away at your grass blades, leaving behind brown spots and stunted growth.
By understanding the specific pests that may be plaguing your lawn, you'll be better equipped to identify and address them using natural pest control methods.
II. Creating a Healthy Environment:
Now that we're familiar with the culprits, let's shift our focus to creating a healthy environment for your lawn to naturally resist pests. Prevention is always key, and by following some simple practices, you can significantly reduce the risk of infestations.
Proper watering, mowing, and fertilizing techniques play a crucial role in maintaining a healthy lawn. Deep, infrequent watering encourages deep root growth, making your grass more resilient to drought and less attractive to pests. Regular mowing at the appropriate height helps promote vigorous growth and reduces the likelihood of weed invasion. As for fertilizing, opt for organic amendments like compost, which enriches the soil and supports a thriving ecosystem.
In addition to these practices, consider introducing beneficial insects to your yard. Ladybugs, lacewings, and parasitic wasps are just a few examples of beneficial insects that prey on common lawn pests. By attracting these helpful organisms, you can create a natural balance in your lawn that keeps the pests in check.
III. Natural Pest Control Methods:
Now, let's get down to the nitty-gritty of natural pest control methods. There are several approaches you can take to combat pests without compromising your organic principles. Let's explore some of these methods:
A. Biological Control:
Biological control involves using beneficial insects or nematodes to prey on harmful pests. For example, introducing nematodes into your lawn can effectively control grubs and other soil-dwelling pests. Ladybugs can help control aphids, while praying mantises feast on a variety of garden pests. Creating habitats that attract these beneficial insects, such as planting flowers and providing water sources, can help maintain a healthy balance in your lawn.
B. Cultural Control:
Cultural control focuses on implementing cultural practices that discourage pests. Regular dethatching and aerating can help remove excessive thatch buildup and improve air circulation, making your lawn less inviting for pests. Proper lawn maintenance, including regular mowing and removing weeds manually, can also go a long way in preventing pest infestations.
C. Mechanical Control:
Sometimes, a hands-on approach is needed to tackle pests. Mechanical control involves physically removing pests or using manual tools to combat their presence. Hand-pulling weeds, setting up traps for insects, or using a sod cutter to eliminate patches of infestation are all effective methods of mechanical control. Just be sure to handle pests with care and dispose of them properly.
D. Organic Pesticides:
While we strive for an organic lawn, there may be instances where additional measures are necessary. Organic pesticides derived from natural sources can be used sparingly to combat specific pests. Neem oil and insecticidal soap are two examples of organic pesticides that can be effective against a range of pests, while still being safe for the environment. Always read the instructions carefully and apply these pesticides according to the recommended guidelines.
IV. DIY Recipes for Natural Pest Control:
If you're a fan of do-it-yourself solutions, you're in for a treat! There are plenty of homemade pest control recipes using common household ingredients. Not only are these DIY remedies cost-effective, but they also minimize the environmental impact. Here are a few easy-to-make recipes:
1. All-Purpose Insect Repellent Spray:
Mix 1 tablespoon of dish soap, 1 tablespoon of vegetable oil, and 1 gallon of water.
Spray the mixture on plants to repel insects like aphids and mites.
2. Weed Killer:
Mix 1 cup of vinegar, 1 cup of salt, and 1 tablespoon of dish soap.
Apply the solution to weeds, being careful to avoid contact with desired plants.
3. Ant Bait:
Mix equal parts of borax and powdered sugar.
Place the mixture in areas where ants are active to attract and eliminate them.
Remember, always test these DIY solutions on a small area before applying them to your entire lawn, and follow safety precautions to protect yourself and the environment.
V. Prevention and Maintenance:
Last but not least, prevention and ongoing maintenance are key to keeping your lawn pest-free. Regularly monitor your lawn's health, keeping an eye out for any signs of pest infestation. Early detection allows you to take prompt action, preventing the problem from escalating.
Perform regular inspections, checking for signs of damage, pests, or weed growth. Address any issues immediately, whether it be manual removal of pests or spot treatments using organic solutions. By staying vigilant and proactive, you can maintain a healthy and beautiful organic lawn year-round.
Conclusion:
Congratulations! You've made it through our journey of natural pest control methods for a beautiful organic lawn. We've covered the importance of understanding common pests, creating a healthy environment, and utilizing various natural pest control methods. We've even dabbled in the world of DIY recipes for those adventurous souls.
Maintaining an organic lawn doesn't mean you have to surrender to pests. With a little knowledge and a lot of love for your lawn, you can create a pest-free oasis that's both beautiful and environmentally-friendly. Embrace these natural pest control methods, and get ready to enjoy the fruits of your labor in a vibrant and thriving outdoor space. Happy gardening!
FREQUENTLY ASKED QUESTIONS
What are natural pest control methods?
Natural pest control methods are a safe and environmentally friendly alternative to chemical pesticides. These methods rely on natural substances and techniques to deter or eliminate pests. Here are a few effective natural pest control methods:
Biological control: This method involves introducing natural predators or parasites that feed on pests. For example, ladybugs can help control aphid populations in gardens.

Physical barriers: Creating physical barriers can prevent pests from entering your home or garden. Installing screens on windows, sealing cracks and gaps, and using netting or fencing in gardens are effective ways to keep pests out.

Companion planting: Certain plants release chemicals that repel pests or attract beneficial insects. For instance, planting marigolds alongside vegetables can deter pests like nematodes.

Organic insecticides: Natural insecticides derived from plants, such as neem oil or pyrethrum, can be effective in controlling pests. These products are less toxic to humans, pets, and beneficial insects.

Traps and baits: Using traps and baits can help control specific pests. Sticky traps can catch flying insects, while pheromone traps lure pests like moths or beetles.

Cultural practices: Good gardening practices can help prevent pest infestations. Regularly removing weeds, practicing proper sanitation, and rotating crops can disrupt pest life cycles and reduce their populations.
Remember, while natural pest control methods are generally safer, they may require more time and effort compared to chemical pesticides. It's important to choose the method that suits your needs and is appropriate for the specific pest problem you're facing.
Why should I choose natural pest control methods for my lawn?
There are several reasons why choosing natural pest control methods for your lawn is a wise decision. Firstly, natural pest control methods are safer for the environment. Traditional chemical pesticides can have harmful effects on the ecosystem, including polluting water sources and harming beneficial insects and wildlife. By opting for natural methods, you can protect the delicate balance of your lawn's ecosystem.Secondly, natural pest control methods are safer for you, your family, and your pets. Chemical pesticides can pose health risks if not handled properly. They can contaminate the air you breathe, the soil you walk on, and even the food you grow in your garden. Natural alternatives, on the other hand, are typically made from organic ingredients and are less toxic.
Additionally, natural pest control methods promote long-term sustainability. Chemical pesticides may provide quick results, but they often create a cycle of dependency. Over time, pests can develop resistance to these chemicals, requiring stronger and more frequent applications. Natural methods, such as introducing beneficial insects or using organic repellents, work with the ecosystem to maintain a healthy balance and reduce the need for constant intervention.
Lastly, natural pest control methods can enhance the overall health and beauty of your lawn. Chemical pesticides can harm the soil, deplete its nutrients, and disrupt the natural microbial activity. This can lead to a weakened lawn that is more susceptible to pests and diseases. By choosing natural methods, you are supporting a healthier and more resilient lawn that can better withstand pest pressures.
In conclusion, opting for natural pest control methods for your lawn is a responsible choice that benefits both the environment and your well-being. It promotes sustainability, protects the ecosystem, and helps maintain a healthy and beautiful lawn.
What are some common pests that can affect my lawn?
There are several common pests that can cause problems for your lawn. Some of these include:
Grubs: These are beetle larvae that feed on the roots of grass, causing patches of dead or dying grass. They are most active in the spring and fall.

Chinch bugs: These tiny insects feed on the sap of grass blades, causing yellow or brown patches in your lawn. They are most active in hot, dry weather.

Armyworms: These caterpillars can quickly eat through large areas of grass, leaving behind bare patches. They are most active in the summer.

Sod webworms: These larvae create small, irregularly shaped brown patches in your lawn by feeding on grass blades. They are most active in the late summer and early fall.

Moles: Although not technically a pest, moles can cause damage to your lawn by burrowing underground. Their tunnels can disrupt the root system of your grass, leading to dying or thinning patches.
It's important to identify and address these pest problems as soon as possible to prevent further damage to your lawn. There are various methods of pest control available, including insecticides and natural remedies. If you're unsure about how to proceed, it's best to consult with a professional lawn care service for guidance.
How can I prevent pests in my lawn?
To prevent pests in your lawn, there are several steps you can take. First, it's important to maintain a healthy lawn by regularly mowing, watering, and fertilizing. This helps to create a strong and robust turf that is less susceptible to pest infestations.Next, be mindful of any areas in your lawn that may be prone to standing water or excessive moisture. Pests, such as mosquitoes and grubs, are attracted to damp environments. Improve drainage and address any pooling water to minimize their breeding grounds.
Additionally, be cautious when using pesticides and insecticides. While they can be effective in controlling pests, they can also harm beneficial insects and wildlife. Consider using organic and natural pest control methods, such as introducing beneficial nematodes or using products derived from neem oil.
Regularly inspect your lawn for signs of pest damage, such as chewed leaves or wilting plants. Early detection can help prevent infestations from spreading and causing extensive damage. If you notice any signs of pests, promptly take appropriate action to address the issue.
Lastly, encourage biodiversity in your lawn by planting a variety of plants and flowers. This attracts beneficial insects and predators that can help control pest populations naturally.
By following these preventive measures and maintaining a proactive approach, you can significantly reduce the risk of pests in your lawn and enjoy a healthy, pest-free outdoor space.
Keywords:
Natural pest control methods for a beautiful organic lawn near me, lawn pesticides safe for pets, organic lawn care, best natural lawn pest control, organic lawn fertilizer, are lawn pesticides harmful, chemical-free lawn care near me, best insect killer for lawns