How to Conduct a Thorough Vehicle Inspection Before Renting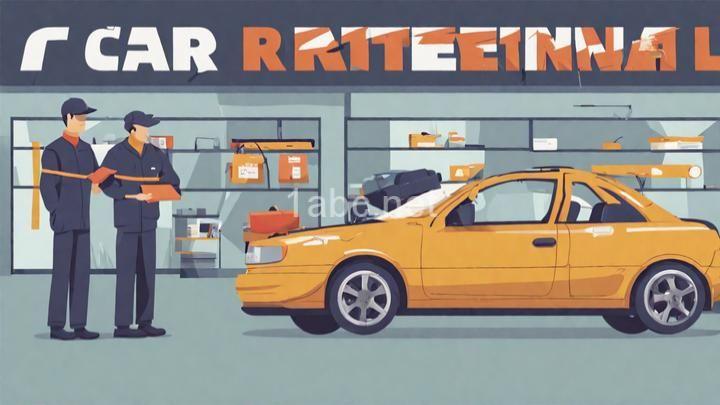 Introduction:
Welcome to our guide on conducting a thorough vehicle inspection before renting. Renting a vehicle can be an exciting experience, but it's important to ensure its condition before hitting the road. In this blog post, we will provide you with a step-by-step guide on how to inspect a rental vehicle properly.
I. Check the Exterior:
When you first approach the rental vehicle, take a moment to carefully examine the exterior. Look for any damages or signs of wear and tear that may affect your rental experience. Start by checking for scratches, dents, or any other visible damage. It's important to note any existing damages before taking possession of the vehicle to avoid being held responsible for them later.
In addition to inspecting the body of the car, pay close attention to the tires. Ensure that they have enough tread depth and are in good condition. Worn-out tires can compromise safety and performance, so it's crucial to address any concerns before driving off.
Don't forget to check all lights and signals on the vehicle. Test the headlights, taillights, brake lights, and turn signals to ensure they are working properly. It's essential to have functional lights for both your safety and the safety of other drivers on the road.
II. Inspect the Interior:
Once you have assessed the exterior of the vehicle, it's time to move on to the interior inspection. Open the doors and carefully step inside. Take note of the cleanliness of the interior and check for any signs of spills or stains that may require additional cleaning fees. It's always a good idea to bring any cleanliness issues to the attention of the rental company before leaving the lot.
Next, test all seats, seat belts, and adjusters to ensure they are functioning correctly. Make sure that the seat belts retract and latch properly, as they are a critical safety feature. Adjust the seats to find the most comfortable position for your driving experience.
While seated in the vehicle, examine the dashboard for any warning lights or anomalies. Check that all gauges and controls are in working order. If you notice any unusual sounds or smells, it may be an indication of mechanical issues that should be addressed before driving the vehicle.
III. Test Drive:
Before finalizing your rental agreement, it's important to take the vehicle for a test drive. This step allows you to assess how the car handles on different road surfaces and listen for any unusual noises. Pay attention to the responsiveness of the brakes, steering wheel, gears, and accelerator pedal. A well-maintained rental vehicle should feel smooth and responsive during the test drive.
If you notice anything concerning during the test drive, inform the rental company immediately. It's better to address potential issues upfront rather than experiencing difficulties later on. The rental company may be able to provide a replacement vehicle or make necessary repairs before you hit the road.
IV. Document Existing Damage:
To protect yourself from any disputes or claims regarding pre-existing damages, it's crucial to document them before renting the vehicle. Take clear photos or videos of any scratches, dents, or other damages both inside and outside of the car. These visuals serve as evidence of the vehicle's condition at the time of rental.
Make sure to share these visuals with the rental company and clearly communicate any pre-existing damages. This documentation will help eliminate any misunderstandings about responsibility for damages that were present before you rented the car.
V. Report Issues Promptly:
If you encounter any issues during your inspection or test drive, report them to the rental company promptly. Notify the rental staff of any concerns and ask for necessary repairs or a replacement vehicle if needed. It's essential to address issues upfront to avoid misunderstandings and ensure a safe and enjoyable rental experience.
Conclusion:
Conducting a thorough vehicle inspection before renting is crucial for your safety and peace of mind. By following the steps outlined in this blog post, you'll be better equipped to identify any potential problems and address them with the rental company. Remember, it's always better to address issues before hitting the road. Happy renting!
Note: This blog post is intended as a general guide only. Specific rental companies may have their own guidelines and policies. Always refer to the rental agreement and consult with the rental company for any specific requirements or instructions.
FREQUENTLY ASKED QUESTIONS
Why is it important to conduct a vehicle inspection before renting?
Conducting a vehicle inspection before renting is crucial for several reasons. Firstly, it ensures your safety on the road. By thoroughly examining the vehicle, you can identify any potential mechanical issues or safety hazards that may put you at risk while driving. It's always better to address these problems beforehand rather than encountering them during your rental period.Secondly, conducting a vehicle inspection helps you avoid any unnecessary costs or disputes. By documenting the condition of the vehicle before renting, you can prevent any misunderstandings or disputes regarding pre-existing damages. This can save you from being held responsible for damages you didn't cause and prevent additional charges when returning the vehicle.
Moreover, a vehicle inspection allows you to familiarize yourself with the car's features and controls. This is particularly important if you're renting a different make or model than what you're used to driving. Taking the time to inspect the vehicle can help you understand how everything works, ensuring a smoother and safer driving experience.
Lastly, conducting a vehicle inspection before renting gives you peace of mind. It allows you to assess the overall condition of the vehicle and make an informed decision about whether it meets your expectations and requirements. Knowing that the vehicle has been thoroughly checked and is in good working order will help you feel more confident and at ease during your rental period.
In conclusion, conducting a vehicle inspection before renting is important for your safety, financial protection, familiarization, and peace of mind. It's a simple yet essential step that should not be overlooked before getting behind the wheel of a rented vehicle.
What should I look for during a vehicle inspection?
During a vehicle inspection, there are several key things you should look for to ensure the overall condition and safety of the vehicle. Here are some important areas to pay attention to:
Exterior: Check for any visible damage, such as dents, scratches, or rust. Inspect the tires for proper tread depth and signs of wear. Look for any cracked or damaged windows and mirrors.

Interior: Check the condition of the seats, upholstery, and carpets. Test all the lights, including headlights, brake lights, and turn signals. Ensure the dashboard functions, such as the gauges, radio, and air conditioning, are working properly.

Under the Hood: Inspect the engine compartment for any leaks or signs of fluid buildup. Check the oil level and condition, as well as the coolant and brake fluid levels. Look for any worn-out belts or hoses.

Brakes and Suspension: Test the brakes to ensure they are responsive and don't make any unusual noises. Pay attention to any vibrations or pulling to one side while driving, which could indicate issues with the suspension.

Electrical System: Check the battery condition and ensure all electrical components, such as the power windows, locks, and wipers, are functioning correctly.

Safety Features: Make sure all the safety features, including seatbelts, airbags, and child lock systems, are in good working order.

Test Drive: Take the vehicle for a test drive to assess its performance. Pay attention to any strange noises, vibrations, or handling issues. Test the acceleration, braking, and steering responsiveness.
Remember, if you are unsure about any aspect of the inspection or lack the necessary knowledge, it's always a good idea to have a professional mechanic perform a thorough inspection before making a purchase.
How long does a vehicle inspection take?
The duration of a vehicle inspection can vary depending on various factors, such as the type of inspection, the condition of the vehicle, and the efficiency of the inspection station. On average, a basic vehicle inspection usually takes about 30 minutes to an hour. This includes checking the vehicle's lights, tires, brakes, suspension, and other essential components. However, more extensive inspections, such as emissions tests or safety inspections, may take longer, typically around one to two hours. It's always a good idea to call ahead and inquire about the estimated duration to plan your time accordingly.
What should I do if I find any damages during the inspection?
If you find any damages during the inspection, it is important to take action to address the issue. Here are the steps you can take:
Document the damages: Take clear pictures or videos of the damages you have found. This will serve as evidence and help you in case you need to file a complaint or claim later on.

Notify the appropriate party: Depending on the situation, you should inform the relevant person or organization about the damages. This could be the landlord, property manager, or the company responsible for the inspection. Be sure to provide them with the necessary details and evidence.

Report the damages in writing: It is always a good idea to have a written record of the damages. Write a detailed description of what you found and send it to the appropriate party. This will help ensure that there is no confusion or misunderstanding about the nature and extent of the damages.

Seek resolution: Depending on the severity of the damages, you may need to discuss potential solutions with the responsible party. This could involve requesting repairs, compensation, or further inspections. Be clear about what you expect and try to find a mutually agreeable resolution.

Keep copies of all communication: Throughout the process, make sure to keep copies of all communication, including emails, letters, and any other relevant documents. This will help you keep track of your efforts to address the damages and can be useful if further action is needed.
Remember, it is important to address damages promptly to prevent further issues and ensure your rights as a tenant or property owner are protected.
Keywords:
How to conduct a thorough vehicle inspection before renting online, rental car inspection checklist pdf, vehicle inspection procedure pdf, rental car checklist pdf, car rental inspection checklist template, car rental checklist template, vehicle inspection checklist, what are the three types of vehicle inspection?