Eco-Friendly Garden Decor: Sustainable and Stylish Ideas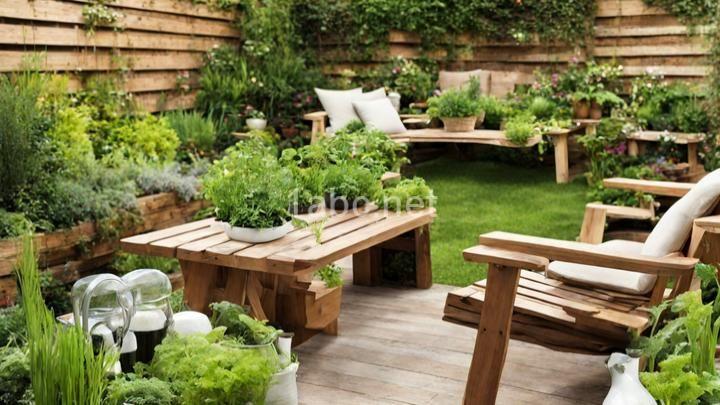 Introduction:
Welcome, fellow garden enthusiasts! Are you ready to embark on a journey towards a greener and more sustainable garden? In this blog post, we will explore the wonderful world of eco-friendly garden decor. By incorporating sustainable materials, native plants, upcycling techniques, energy-efficient lighting, and water conservation strategies, we can create stunning outdoor spaces that not only look beautiful but also contribute to a healthier planet.
Section 1: Choosing Sustainable Materials
When it comes to garden decor, the materials we choose play a significant role in our environmental impact. By opting for sustainable materials, we can reduce our carbon footprint and promote a greener lifestyle. Reclaimed wood, recycled plastic, and natural fibers are excellent choices for eco-friendly garden decor.
Reclaimed wood adds rustic charm to outdoor spaces while minimizing deforestation. By giving new life to salvaged timber, we not only reduce waste but also create unique and stylish garden features. Recycled plastic, on the other hand, can be transformed into durable and weather-resistant furniture, planters, and decorative items. It's a fantastic way to divert plastic waste from landfills and oceans.
Natural fibers such as bamboo, jute, and hemp are sustainable alternatives to synthetic materials. From garden furniture to hanging planters, these fibers offer a natural and earthy aesthetic. By choosing these materials, we support the growth of renewable resources and reduce our dependence on non-renewable ones.
Section 2: Incorporating Native Plants
Native plants are not only beautiful but also essential for creating a sustainable garden. These species have adapted to the local climate and soil conditions, making them more resilient and low-maintenance compared to non-native plants. By incorporating native plants in our garden design, we can conserve water, reduce the need for chemical fertilizers, and support local wildlife.
Depending on your region or climate, there are numerous native plant options to choose from. For example, if you live in a dry area, consider planting succulents or drought-tolerant wildflowers. In regions with abundant rainfall, native grasses and flowering shrubs can thrive without excessive watering. Research local nurseries or consult with gardening experts to discover the best native plants for your area.
Section 3: Upcycling and Repurposing
Let your creativity flourish by upcycling and repurposing items for your garden decor. Instead of discarding old furniture, containers, or household items, give them a new lease on life in your outdoor oasis. Upcycling not only adds a touch of uniqueness to your garden but also saves money and reduces waste.
Turn an old wooden ladder into a vertical herb garden, transform wine barrels into planters, or repurpose an old chest of drawers into a creative storage solution for your gardening tools. The possibilities are endless! Let your imagination run wild and let your garden be a testament to your resourcefulness and commitment to sustainability.
Section 4: Energy-Efficient Lighting Solutions
Proper lighting can create a magical ambiance in your garden, but it's important to choose energy-efficient options to minimize environmental impact. LED lights are an excellent choice for eco-friendly garden lighting. They use up to 80% less energy than traditional bulbs and have a longer lifespan, reducing waste and saving money in the long run.
In addition to LED lights, consider incorporating solar-powered lighting in your garden. Solar lights harness the power of the sun during the day and illuminate your outdoor space at night, all without consuming electricity. From stake lights to string lights, there are numerous solar-powered options to suit your garden's style and needs.
Section 5: Water Conservation Techniques
Water is a precious resource, and conserving it in the garden is essential for sustainable living. Implementing water conservation techniques not only helps the environment but also saves you time and money. One effective method is to use drip irrigation systems, which deliver water directly to the roots of plants, minimizing evaporation and waste.
Mulching is another fantastic way to conserve water in your garden. By applying a layer of organic mulch, such as wood chips or straw, you can retain moisture in the soil, suppress weed growth, and improve overall plant health. Additionally, grouping plants with similar watering needs together helps ensure efficient water usage.
Conclusion:
Congratulations on completing this journey towards creating an eco-friendly garden! By choosing sustainable materials, incorporating native plants, upcycling and repurposing, using energy-efficient lighting, and employing water conservation techniques, you are making a significant contribution to a greener world.
Remember, sustainable gardening is an ongoing process. As you continue to explore and experiment, don't hesitate to seek support and additional resources. Connect with fellow gardeners, join online communities, or consult local gardening experts for guidance and inspiration.
Let's build a community of environmentally conscious gardeners who inspire and support one another on this sustainable gardening journey. Together, we can create beautiful, stylish, and eco-friendly outdoor spaces that bring joy to our lives while preserving our planet for future generations. Happy gardening!
FREQUENTLY ASKED QUESTIONS
What is eco-friendly garden decor?
Eco-friendly garden decor refers to decorative elements and accessories that are designed and produced with sustainable and environmentally-friendly materials and practices. These items are intended to enhance the beauty of your garden while minimizing the negative impact on the planet.When it comes to eco-friendly garden decor, there are several key aspects to consider. First and foremost, the materials used should be natural and renewable, such as bamboo, teak, or reclaimed wood. These materials have a lower carbon footprint compared to synthetic alternatives and can be easily recycled or composted at the end of their lifespan.
Additionally, eco-friendly garden decor should prioritize water conservation. This can be achieved through the use of rainwater harvesting systems, drip irrigation, and water-efficient features like self-watering planters. By minimizing water waste, you can reduce your environmental impact and save on water bills.
Another important aspect of eco-friendly garden decor is the use of organic and non-toxic materials. This includes choosing organic fertilizers and pesticides instead of harmful chemicals that can harm wildlife and soil quality. Opting for natural dyes and finishes for furniture and decorations is also a great way to minimize exposure to harmful substances.
Lastly, eco-friendly garden decor should promote biodiversity and support local ecosystems. This can be achieved by incorporating native plants, creating habitats for beneficial insects and birds, and avoiding invasive species. By embracing biodiversity, you can create a thriving and balanced garden ecosystem.
In summary, eco-friendly garden decor is all about making conscious choices that prioritize sustainability, water conservation, non-toxic materials, and biodiversity. By incorporating these principles into your garden design, you can create a beautiful outdoor space that is both aesthetically pleasing and environmentally responsible.
Why should I choose eco-friendly garden decor?
There are several compelling reasons to choose eco-friendly garden decor. Firstly, opting for eco-friendly options helps to reduce your carbon footprint and minimize the negative impact on the environment. By choosing sustainable materials and practices, you can contribute to the conservation of natural resources and protect biodiversity.Secondly, eco-friendly garden decor is often made from recycled or upcycled materials, which helps to reduce waste and promote a circular economy. By repurposing materials, you can give new life to items that would otherwise end up in landfills.
In addition, eco-friendly garden decor is often free from harmful chemicals and toxins, making it safer for both you and the environment. Traditional garden decor may contain pesticides, fungicides, and other harmful substances, which can have detrimental effects on human health and wildlife.
Furthermore, eco-friendly garden decor can enhance the aesthetic appeal of your outdoor space. There are a wide variety of stylish and innovative designs available, ranging from recycled metal sculptures to repurposed wood furniture. By choosing eco-friendly options, you can create a unique and beautiful garden that reflects your values.
Lastly, supporting eco-friendly garden decor brands and businesses can help to drive positive change in the industry. By choosing to spend your money on sustainable products, you are encouraging companies to adopt more environmentally-friendly practices and invest in eco-friendly alternatives.
Overall, choosing eco-friendly garden decor is a responsible and rewarding choice. It allows you to create a beautiful outdoor space while minimizing your impact on the planet.
What are some sustainable materials I can use for garden decor?
When it comes to sustainable materials for garden decor, there are plenty of options to choose from. Here are some suggestions:
Reclaimed Wood: Using reclaimed wood not only adds a rustic charm to your garden, but it also repurposes materials that would otherwise go to waste. Look for old pallets, barn wood, or driftwood to create unique planters, benches, or even decorative signs.

Bamboo: Bamboo is a fast-growing and renewable resource that can be used for various garden decor items. It can be shaped into trellises, fences, or even wind chimes. Plus, it adds a touch of zen to your outdoor space.

Terracotta: Terracotta pots and planters are not only aesthetically pleasing but also eco-friendly. They are made from natural clay and can be reused for many years. Terracotta also helps regulate moisture levels in the soil, promoting healthier plant growth.

Recycled Metal: Look for garden decor made from recycled metal, such as old cans, barrels, or scrap metal. These can be transformed into unique sculptures, garden stakes, or even hanging planters. Not only does it give a second life to discarded materials, but it also adds an artistic touch to your garden.

Natural Stone: Incorporating natural stones, such as river rocks or pebbles, into your garden decor can create a serene and earthy ambiance. Use them to create pathways, edging, or even as decorative accents in your flower beds.
By opting for these sustainable materials, you can enhance the beauty of your garden while minimizing your impact on the environment.
Are there any energy-efficient options for garden lighting?
Yes, there are several energy-efficient options available for garden lighting. LED lights are a popular choice for their energy efficiency and long lifespan. They consume significantly less energy compared to traditional incandescent bulbs, while still providing ample illumination for your garden. Solar-powered lights are another great option as they harness energy from the sun during the day and automatically light up your garden at night. These lights are not only eco-friendly but also cost-effective as they do not require any electricity. Additionally, motion-sensor lights can be used to conserve energy by only turning on when someone is present in the garden. This way, you can save energy by not keeping the lights on all the time. So, whether you want to highlight specific areas or create a magical ambiance, there are plenty of energy-efficient options to choose from for your garden lighting needs.
Keywords:
Eco friendly garden decor sustainable and stylish ideas pinterest, Eco friendly garden decor sustainable and stylish ideas diy, eco friendly garden decorations, designing a sustainable garden, sustainable gardening methods, garden design ideas for vegetables, sustainable home garden, sustainable gardeners